Flower Face Roller Blind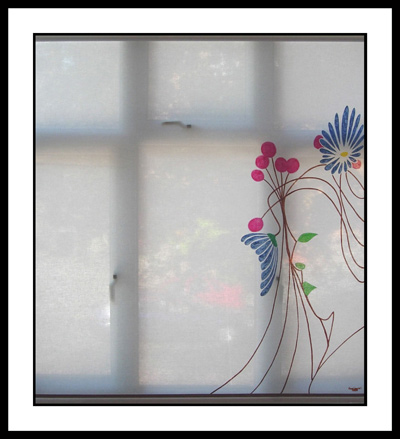 £ 69.50
For alternative payment other than paypal feel free to contact me.
FREE DELIVERY FOR ALL UK MAINLAND
This beautiful decorative roller blind is handmade, and has been hand painted with my own unique "Flower Face" design.
The roller blind stylish design and its vibrant colour will update any room, adding a touch of originality to your home and creating a great contemporary setting.
This roller blind would make a lovely gift or could be a wonderful treat to yourself.
Inspiration:
For this design, I got my inspiration while looking at the way the leaves fly with the wind. Sometimes, for a split of a second, you can see something there. Maybe a face, maybe something else.
I painted a women bust using plant stems to do her long hair and face, and leaves for the eye, nose and lips.
I finished adding flowers to her hair, giving it colour and bringing everything together.
Design and hand painted with love in the UK!
Features:
Wall fitting for the blind cord for increased child safety.
Continuous side control makes it easy to pull the blind up and down to the desired position.
Can be mounted both inside and outside the window frame and also in the ceiling. (Make sure the chosen screws/fittings
are suitable for use in the wall/ceiling to which they are to be fixed.) Wall fittings and instructions included.
Product information:
Top rail: Steel.
Fabric: 100% cotton.
High quality Textile ink.
Size:
This roller blind is 47" (120cm) wide by a maximum of up to 160cm (63") in height. Total width including fittings 48.8" (124 cm).
Can be cut to desired width to fit your window.
Care instructions:
Do not wash. Do not bleach. Do not tumble dry. Do not iron. Do not dry clean.
Wipe clean with a cloth dampened in a mild cleaner.
COPYRIGHT © HUGO CAMPOS DESIGN 2020. ALL RIGHTS RESERVED