Deer By The Tree Cushion Cover
Deer By The Tree Cushion Cover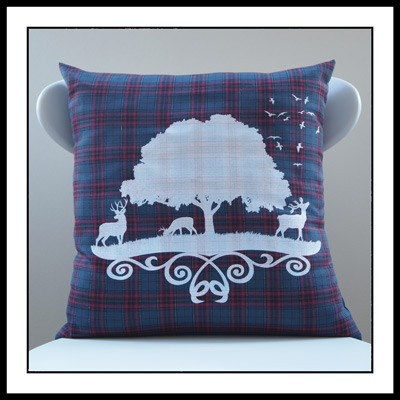 £ 27
For alternative payment other than paypal feel free to contact me.
FREE DELIVERY FOR ALL UK MAINLAND
This beautiful decorative cushion cover is handmade, and has been screen-printed with my own unique "Deer By The Tree" design.
The cushion cover stylish design and its vibrant colour will update any room, adding a touch of originality to your home and creating a great contemporary setting.
The white print combines beautifully with the tartan pattern fabric.
The cushion cover has an envelope closure at the back for easy insertion or remover of an inner cushion, making it easy to remove for washing.
This cushion cover would make a lovely gift or could be a wonderful treat to yourself.
Inspiration:
Design inspired by the amazing silhouette animation of the German film director Lotte Reiniger.
Please note that the inner cushion is not included. Inserts are widely available at local crafts or fabric stores, as well as online.
Design and hand printed with love in the UK!
Product information:
Good quality polyviscose tartan fabric .
High quality plastisol ink.
Size:
Approximately 40 x 40cm (16 x 16") and will fit on a insert of the same size.
Care instructions:
I only use high quality fabric inks that are sure to stand up to every day wear and tear. They stand up very well to repeated washing. I recommend you turn the cover inside out before washing, and wash it at low temperatures and iron on reverse.
DO NOT TUMBLE DRY OR DRY CLEAN. DO NOT BLEACH. DO NOT IRON DIRECTLY OVER PRINT.
COPYRIGHT © HUGO CAMPOS DESIGN 2020. ALL RIGHTS RESERVED