Short Handles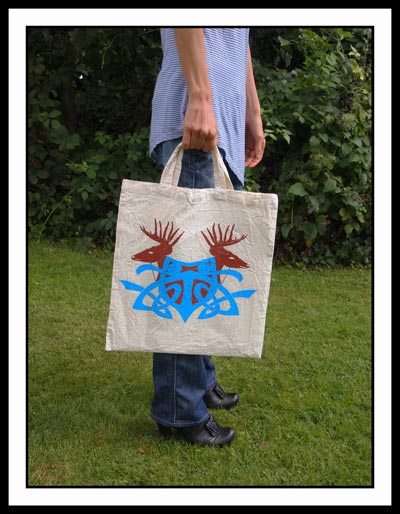 £ 7
Long Handles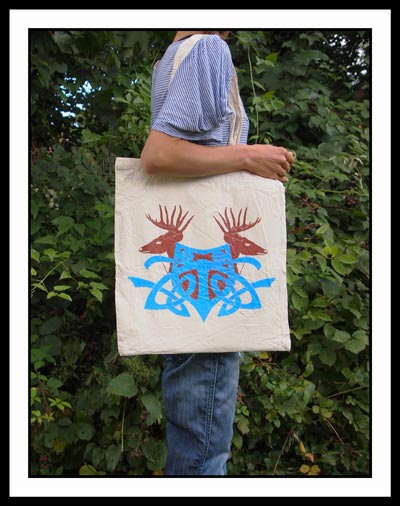 £ 7
For alternative payment other than paypal feel free to contact me.
FREE DELIVERY FOR ALL UK MAINLAND
This beautiful fashion bag is handmade, and has been screen-printed with my own unique "Deer Crest" design.
This stylish design and its vibrant colour will make a great fashion accessory bag that you can use everywhere you go.
The light brown and the blue print combines beautifully with the natural unbleached canvas.
With strong cotton handles sewn onto the bag makes it ideal for carrying your shopping. You would become more environmental friendly by stoping using plastic bags.
Available with long and short handles.
This bag would make a lovely gift or could be a wonderful treat to yourself.
Inspiration:
For this design, I got my inspiration after my visit to Richmond Deer Park and Hampton Court Castle, where I saw many different crests. I wanted to create a unique crest design, so i done it in a celtic art style. Doing celtic designs is an old passion of mine.
Design and hand printed with love in the UK!
Product information:
Good quality natural unbleached canvas.
High quality plastisol ink.
Size:
39 x 36cm (approximately 15.4 x 14.2").
Care instructions:
I only use high quality fabric inks that are sure to stand up to every day wear and tear. They stand up very well to repeated washing. I recommend you turn the bag inside out before washing, and wash it at low temperatures and iron on reverse.
DO NOT TUMBLE DRY OR DRY CLEAN. DO NOT BLEACH. DO NOT IRON DIRECTLY OVER PRINT.
COPYRIGHT © HUGO CAMPOS DESIGN 2020. ALL RIGHTS RESERVED